Products

Hemochron™ Signature Elite
---
For rapid whole blood testing from the Cardiovascular Operating Room to the Cardiac Catherization Lab, Hemochron Signature Elite system standardizes ACT+, ACT-LR, PT and APTT testing at the point-of-care. Rapid, accurate and reproducible results, for patient management decisions in Acute Care settings.
Reliable results in any point-of-care setting.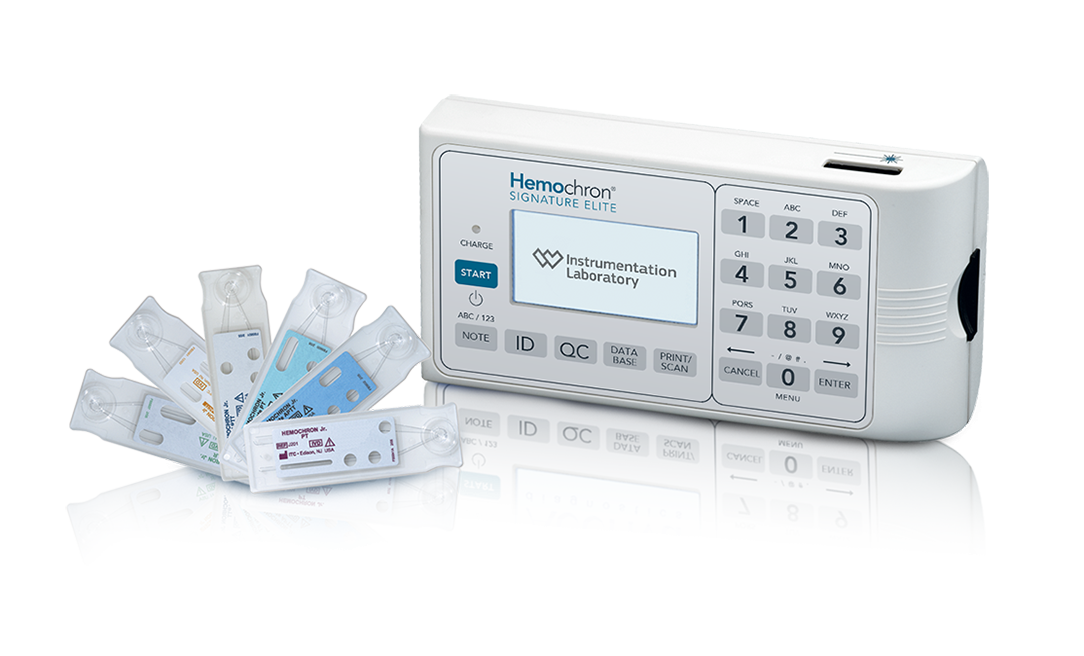 Broadest Test Menu for rapid point-of-care Hemostasis diagnosis and monitoring
---
Hemochron Signature Elite system offers the broadest menu for rapid whole blood Hemostasis testing and monitoring including both high and low heparin ranges (ACT+, ACT-LR) as well as PT and APTT, with both coagulation pathways. Ideal across a range of POC settings: Cardiovascular Operating Room, Cardiac Catheterization Lab, Emergency Department, Intensive Care Unit, Trauma Surgery, Anticoagulation Clinic.
Any dosage. Any patient. Any operator.
Broadest test menu

ACT+ accurately measures heparin effects (1.0-6.0 u/mL blood); sensitive to low heparin doses (0.0-2.5 u/mL blood), ACT-LR is the only low-range POC assay indicated for use during ECLS, Hemodialysis, PTCA. PT/Citrate PT and APTT/Citrate APTT reports INR, plasma-equivalent seconds, with an effective INR range of 0.8-10.0.

Complete Assay Menu: ACT+, ACT-Low Range, PT, Citrate PT, APTT, Citrate APTT

Fast and simple

Fast, accurate and reproducible results for dose adjustments and clinical decisions. Faster true fibrin clot than any other system. Simple cuvette-based technology measures fibrin formation.

Connectivity and compliance

To maximize efficiency and ensure regulatory compliance, automatic internal electronic QC with lockout for cuvette and QC expiration, as well as operator tracking and lockout. Direct connection to Ethernet and major data management systems. POCT-1A compliant.
Contact Us
---
Contact us directly filling out the form below.
Belgium-Luxembourg
infobnl@werfen.com
Tel: +32 (0) 800 713 37
The Netherlands
infobnl@werfen.com
Tel: +31 (0) 800 882 02 88