News OEM
Optimizing critical biomaterials manufacturing processes
September 1, 2022 12:00 PM
Werfen's capabilities to supply Biomaterials for the IVD industry
Nowadays, and in the coming years, due to the changing market, major IVD players will need to meet an increasing demand for IVD products while remaining innovative, reliable, and focused on quality.
Our experience in immunoassay development and manufacturing helps us understand the challenges you might face as an immunoassay manufacturer when meeting increased demand, either for the final immunoassay or for key biomaterials such as antigens and antibodies.
At Werfen, we work alongside our partners to help them meet their operational and quality needs.
Our Approach
To secure the supply of one critical biomaterial for one of our key partners we performed an in-depth analysis of the manufacturing process of this critical biomaterial. It was found that the current manufacturing process was close to reaching its limit in terms of resource capacity. Our biotechnology R&D team performed a thorough analysis of the existing manufacturing process to find alternative strategies to optimize biomaterial production while keeping its specifications unaltered. As a result of the project, it was determined that the best approach to optimize the manufacturing process was to change the cell culture operation. The simplest cell culture operation is a batch mode in which cells are allowed to grow until nutrients are exhausted. Batch operation can be optimized to fed-batch operation, where more nutrients are added throughout the cell culture time to avoid nutrient exhaustion. Although nutrients can be added to overcome depletion, both batch and fed-batch operation have a common drawback, which is the accumulation of toxic cell metabolism by-products that can impair cell viability. To avoid this limitation of batch and fed-batch operation, the removal of media is mandatory. The analysis of the existing manufacturing process and the key biomaterial showed that avoidance of metabolism by-products was mandatory, as was a continuous increment of viable cell density towards a maximization of biomaterial productivity. The cell culture operation that can reach both requirements is the perfusion mode, which allows the addition of nutrients and the removal of toxic cell metabolism by-products while retaining cells inside the bioreactor where they can grow exponentially.
Outcomes
The results of the optimization were that the productivity of the manufacturing process could be increased by 20-fold, while the time to obtain the required quantity was reduced by 67%, with no need to increase the bioreactor volume or to invest in additional bioreactors.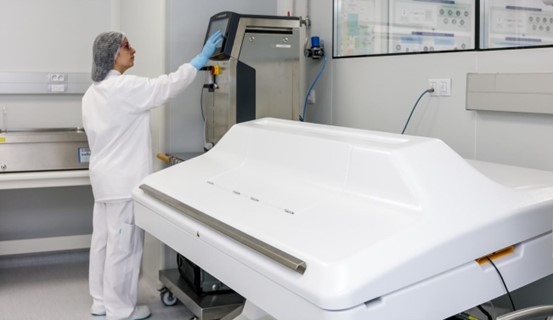 Contact us
---
Please contact us directly via telephone or with the following form.
Tel. +34 93 860 90 00