News OEM
Optimizing Biomaterial purification processes to streamline immunoassay operations
February 21, 2022 12:00 PM
Knowing more about the biomaterial leads to more robust immunoassays and to a more secure supply chain
One of the most critical challenges that we face as an IVD manufacturer is supplying immunoassays that not only meet the needs of our customers, but also comply with the requirements of regulatory agencies around the world.
Obtaining in-depth knowledge of a biomaterial through physicochemical and functional characterizations is key to supplying immunoassays that meet both our customers' needs and the highest quality standards.
Our experience in immunoassay development & manufacturing means we understand the challenges you face as an immunoassay manufacturer and the critical factors you have to consider when producing a biomaterial.
You can rely on our experience in IVD immunoassay development & manufacturing and on our expertise in physicochemical and functional characterization to deliver robust biomaterials that will make your operations more secure
Our Approach
The need to meet the demands of one of our partners for a new generation of commercial immunoassays led us to optimize the manufacturing process of a key raw material while preserving product specifications and maintaining raw material performance.
The approach that our Biotechnology R&D team used was to move from hybridoma cell expression to stable cell line expression and use high throughput technologies to determine an optimal purification process.
Defining an optimal purification process is critical to achieving the biomaterial yields necessary to meet our partners' needs for critical raw materials to use in their IVD assays.
The following variables were evaluated to find the optimal purification process:
Resin
Binding conditions
Elution conditions 
Analytical characterization techniques
Outcomes
The introduction of a high throughput screening process allowed us to increase the number of conditions to be evaluated while reducing "hands-on" laboratory time.
Defining the optimal purification conditions for this critical raw material enabled potential increases in yields, thus bypassing potential bottlenecks.
Click here for more details about this project in the OEM Webinar Series: Enhanced Biomaterials to Increase Immunoassay Robustness: Optimization of a Purification Process.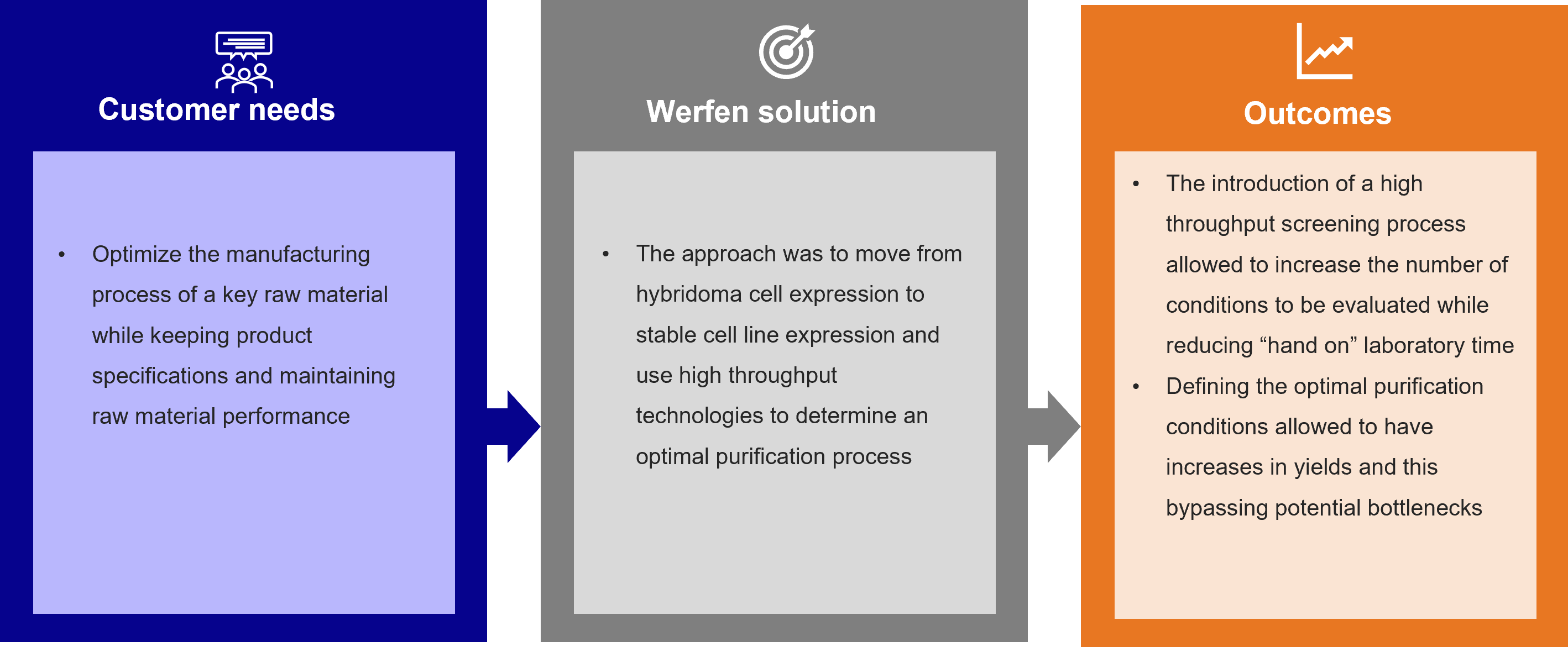 Contact us
---
Please contact us directly via telephone or with the following form.
Tel. +34 93 860 90 00