News General
Operational Excellence in Immunoassay Manufacturing III
August 23, 2021 12:00 PM - Spain
How Werfen is encouraging Operational Excellence in immunoassay operations
The manufacturing process of an immunoassay, which ranges from the manufacturing of the IVD biomaterial to the filling and packaging activities, is a complex and, at times, challenging process. We provide our partners with more than 300 different immunoassay and IVD Biomaterial references that are manufactured with different manufacturing processes.
In line with Werfen philosophy, we constantly seek to create an environment of continuous improvement for its employees and external collaborators.
Re-thinking processes: Looking for ways to do things differently  
Our Approach
One of the operational excellence projects involved certain latex-based immunoassays that we manufacture for our partners. A transversal team, with members from R&D, manufacturing, technical support, QRA and fill & pack, conducted a review of the different flows involved in the final step of the manufacturing & filling process to detect opportunities for improvement. The review focused on the filling process of the bulk reagents and the optimisation pursued by the team was to streamline the process and reduce associated risks in the filling process. The approach selected was to unify the volume and type of container in which the bulk reagent is transferred from the manufacturing department to the filling line.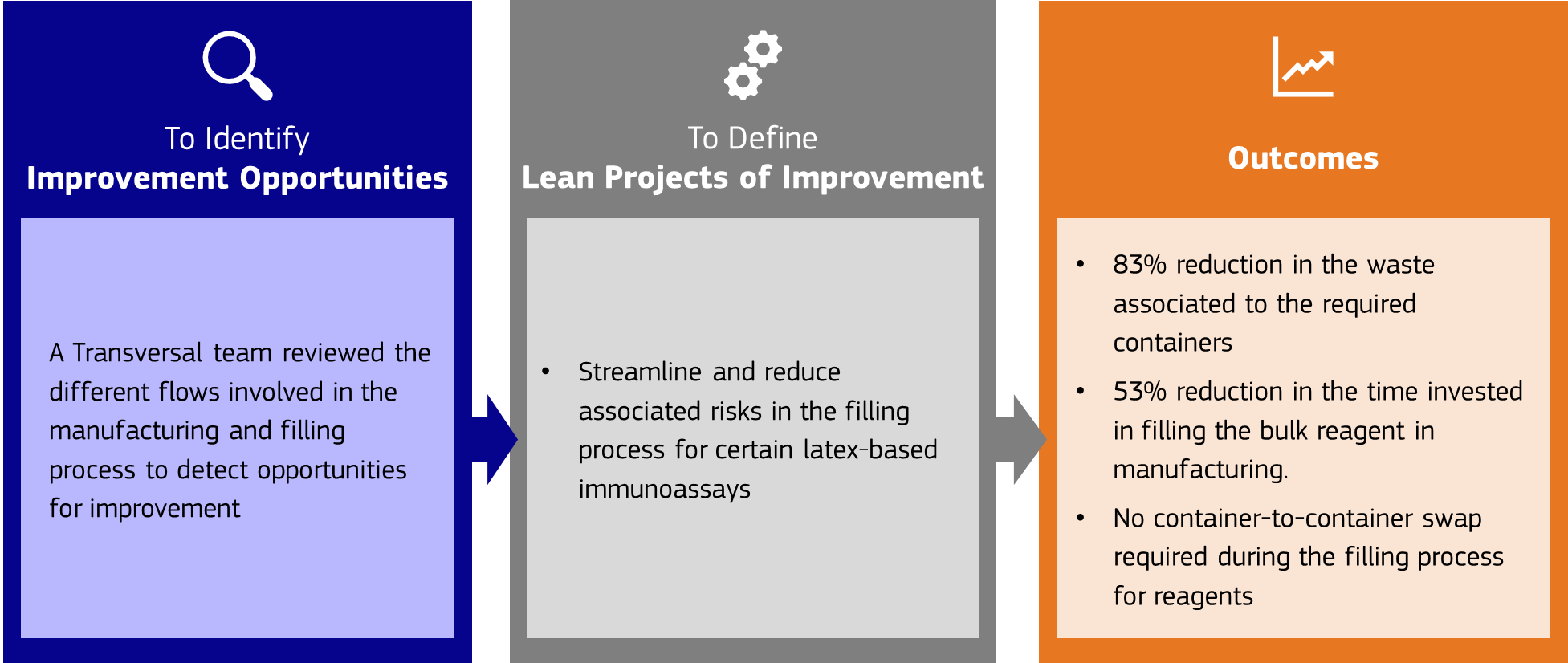 Outcomes
As a result of this operational excellence project, the reagent waste due to the different bulk reagent containers required was almost eliminated (83% reduction). In addition, the time invested in the bulk reagent filling process by the manufacturing team was reduced by 53% and the fill & pack team did not have to invest additional time in changing the reagent bulk container when the product was in the filling line.
Contact us
---
Please contact us directly via telephone or with the following form.
Tel. +34 93 860 90 00