News General
De-risking new immunoassay development
September 21, 2021 12:00 PM
How Werfen is driving immunoassay development
In vitro diagnostics are playing a significant role in current healthcare systems and our partners must provide practitioners and their patients with innovative, reliable, and high-quality immunoassays in a sustainable and efficient way.
At Werfen we work alongside our partners to expand their immunoassay portfolio by de-risking their novel developments and reducing time-to-market.
We work towards moving your immunoassay portfolio one step further
At the outset of a project, we discuss and design jointly with our partners the assay development business model that best suits their needs. We have a dedicated R&D team who works from the inception and characterization of the biomaterial to the clinical validation of the new immunoassay.
We rely on our R&D Core Technologies team whose objective is to de-risk the new immunoassay development at the initial stages of new assay formulations to reduce risks and uncertainties from the outset of the project.
The strategy of the R&D Core Technologies team is built around four pillars: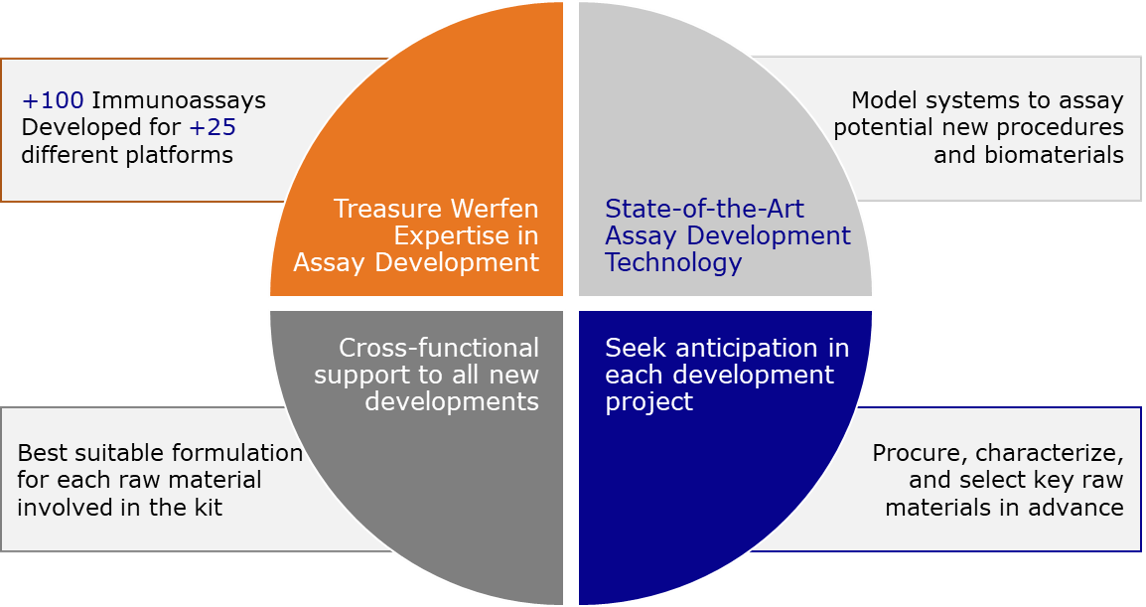 We at Werfen advance our shared objective by providing our partners with a new immunoassay to expand their portfolio in a quality and timely manner. 
Click here for some examples, including a practical case of an immunoassay to detect a hormone in the Werfen Webinar - OEM Series: De-risking immunoassay development.
Contact us
---
Please contact us directly via telephone or with the following form.
Tel. +34 93 860 90 00